About the Alum Creek VFD....
The Alum Creek VFD was established in 1963. We provide primary fire and rescue services to over 2000 homes and businesses in two counties with an ISO rating of Class 4. Our fire district of both Kanawha and Lincoln counties encompasses 112 square miles that is mostly rural country. Only about 50 percent of the area has fire hydrants, so we rely greatly on tanker shuttles and drafting operations to maintain water supply for many residential house fires. We currently operate from three fire stations and we are encountering a growth in business and housing development construction and we will continue our efforts to reduce insurance premiums in all possible ways. We are thankful for the trust and support of our community and we strive to provide the best service possible. Our department is 100 percent totally volunteer staffed with men and women from the community who are trained and ready to help.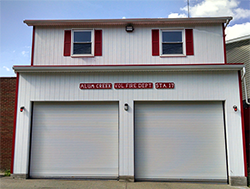 Station 1 - Childress Road
Located at 2106 Childress Road, this is our first and original fire house built in 1963. It is centrally located in the response area and serves as our business office.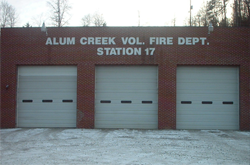 Station 2 - Sandplant Road
Located at Corr. G and Sandplant Road, this is our second fire house built in 1989.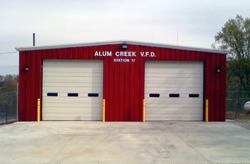 Station 3 - Midway Road
Located at 1717 Midway Road, this is our third fire house built in 2008.
For more information on our Sod Station project click here Station 3.