JOIN THE ALUM CREEK VFD
The Alum Creek VFD is actively seeking local residents (men & women) who are interested in becoming firefighters, emergency medical technicians, specialized rescue and administrative members. Our department relies on community support and involvement in serving as volunteers. Joining a volunteer fire department is a wonderful way to help others when they need help the most. It is a great feeling to know when you made a difference and saved someone's life. When you become a volunteer with us, you become part of a family. This family atmosphere creates the opportunity to develop life long friendships with other volunteers living in the community, volunteers from other departments and the people we provide emergency assistance to. Our volunteers spend a great deal of time together on emergency calls, but also attend activities throughout the year such as cookouts, fire schools and our annual awards banquet. We take time to enjoy life and joke around when we can, but when the bell rings we go to work.
Be part of a volunteer emergency organization today....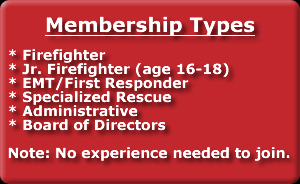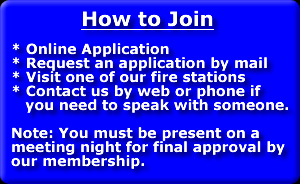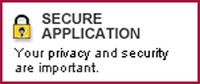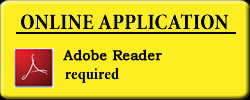 General Membership Benefits...
Free Training - All firefighting, rescue and emergency medical training is paid for by the fire department.

College Credit - Some training allows you to earn contact hours that will convert to college hours, accepted at many different schools.

Uniform Incentive - After completion of required training, we provide you a complete dress uniform, with pants, shirt, shoes, hat, badge, etc...

License Plates - When you complete the probation period, we allow you to purchase personalized firefighter license plates for your vehicles.

Leadership - Opportunities for advancement and responsibility in both operational and administrative branches of the department.

Fire Safety - Opportunities to educate students during fire prevention week, take part in various community events throughout the year.

Career Boost - The training we provide is the same training required to become a paid EMT/ firefighter. Many career departments look for applicants who already have this required training!